Learn More About the Outlander PHEV
A Sneak Peek at the 2023 Mitsubishi Outlander PHEV - What We Know So Far
A new year is on the horizon and with it comes exciting news from the engineers at Mitsubishi. If you love Mitsubishi style and quality, and you crave the efficiency and groundbreaking performance of a plug-in hybrid powertrain, the 2023 Mitsubishi Outlander PHEV is planning some major updates, and the team at Ken Pollock Mitsubishi in Carbondale, PA has your inside scoop.
What's New for the 2023 Mitsubishi Outlander PHEV?
More than just a new model year, the 2023 version of this popular hybrid model also ushers in a new generation for the lineup. It gets a new design, with a bolder style and revamped interior, as well as new features and a boost in both power and efficiency.
A three-row, plug-in hybrid SUV with a seating capacity of seven people, the 2023 Outlander PHEV also gives drivers a greater electric-only driving range than ever before, thanks to the cutting-edge, twin-motor system that delivers power to both the front and rear of the vehicle. Add in a larger fuel tank than previous models had, and you get a new, state-of-the-art hybrid SUV that can take you wherever you want to go.
The new Mitsubishi Outlander PHEV is based on the fourth generation of the perennially popular Outlander SUV, which introduced its own revamped version in 2022. Continuing in the original model's footsteps, the hybrid model also comes with all the latest features and tech amenities that our customers love, including a limited-time, complimentary subscription to the Mitsubishi Connect service.
Contact Us for More Information
Ready to meet the 2023 Outlander PHEV in person and take it for a test spin around Carbondale? We recommend checking back often for the most up-to-date information on availability, or contacting our team for answers to all of your questions. We look forward to helping you usher in the new year with a new Mitsubishi, soon.
Hybrid with Style: Meet New Mitsubishi Outlander PHEV in Carbondale
With the rising passion for saving the environment, many automakers have caught on to the growing interest in electric driving. If you're a Carbondale resident who's already joined the hybrid driving population, we want to introduce you to the Mitsubishi Outlander PHEV - the brand's hybrid SUV. If you're someone who worries about your vehicle's emissions damaging the atmosphere, you need to meet the Mitsubishi Outlander PHEV. Its efficient performance alone will encourage you to schedule a test drive at Ken Pollock Mitsubishi.
Mitsubishi Outlander PHEV Performance: Hybrid Benefits
If you've ever driven a hybrid, you know the advantages of the unique system that functions between a gas and electric power source depending on the driving situation. In the Outlander PHEV, your Mitsubishi SUV will reach an efficiency rating of 74 MPGe. The hybrid system your SUV uses will consist of and automatically transition between three modes to maximize your Mitsubishi's performance.
EV Mode will be what you use for zero-emission, fully-electric driving where all power stems from two electric motors and charges the lithium-ion battery pack. 
If your battery charge is low, your hybrid system switches to the Series Hybrid Mode that adds in more power from the gasoline engine to help out the electric motors.
With the presence of hills, you can utilize the Parallel Hybrid Mode that uses the gas engine to operate the front wheels while sending electricity to the battery.
You will also have all the benefits of Regenerative Braking and Super All-Wheel Control that improve your SUV's degree of traction, stability, braking, and efficiency as you fulfill your travel obligations in and out of the Carbondale area. Plus, the 1,500-pound towing capacity opens the door for new, exciting weekend activities. It's everything put together that pushed the Outlander PHEV to land the honor of Green SUV of the Year by Green Car Journal.
Mitsubishi Outlander PHEV Tech: Your Innovative Cabin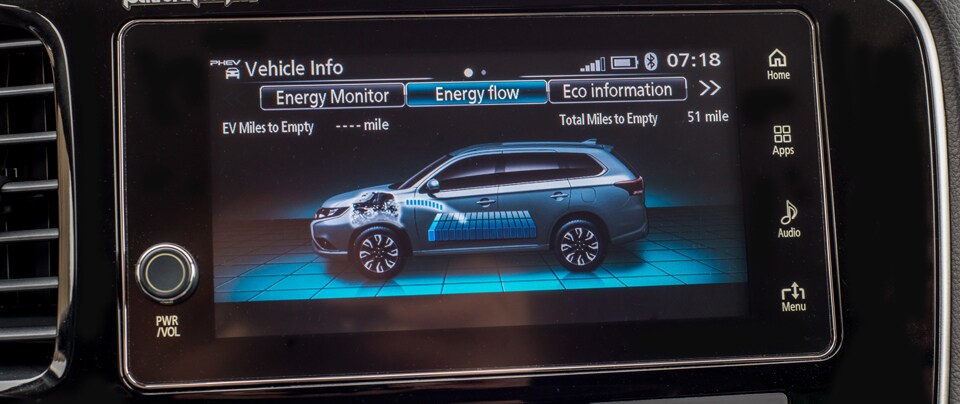 With the hardworking PHEV system, impressive 22-mile EV Mode driving range, and three convenient charging options, your Mitsubishi hybrid will be able to stick to your busy Carbondale schedule. With all lower vehicle emissions helping the environment, you may be wondering how the Mitsubishi Outlander PHEV will help keep you connected and engaged while you drive. With advanced tech features, your questions will find answers in the innovative Mitsubishi Outlander PHEV cabin.
Mitsubishi Remote Control 
Seven-inch, high-resolution touchscreen 
Smartphone Link Display Audio System 
Apple CarPlay® and Android Auto™ 
Voice recognition software 
Rockford Fosgate® Premium Sound System
Mitsubishi Outlander PHEV Size: Fits Family and Cargo
If you have a family of five or fewer members, you will all fit nicely into the interior design of the Mitsubishi Outlander PHEV. If you can do without the rear row, you'll have up to 66.6 cubic-feet of cargo capacity to fit any gear that you need to bring along for your hiking trip just outside Carbondale. With leather-appointed seats and steering wheel, your cabin will look as modern as it is comfortable for you and your guests. If you have anything requiring a power source, your Outlander PHEV has available AC power outlets. Plus, there are amenities to keep your cabin nice and warm during winter - heated seats, exterior side mirrors, and steering wheel.
Drive Electrically with the New Mitsubishi Outlander PHEV
Between the convenient size, the connected cabin, and the eco-friendly performance, you already have three substantial reasons to investigate the Mitsubishi Outlander PHEV at Ken Pollock Mitsubishi in Carbondale. If you have a question about how the Mitsubishi Outlander PHEV charges or what your options are for maximizing your efficiency, talk to a Mitsubishi professional. We're excited to show you around the latest version of the awarded Mitsubishi hybrid when you come in for a zero-emission test drive. Schedule yours today at your Pennsylvania Mitsubishi dealer.