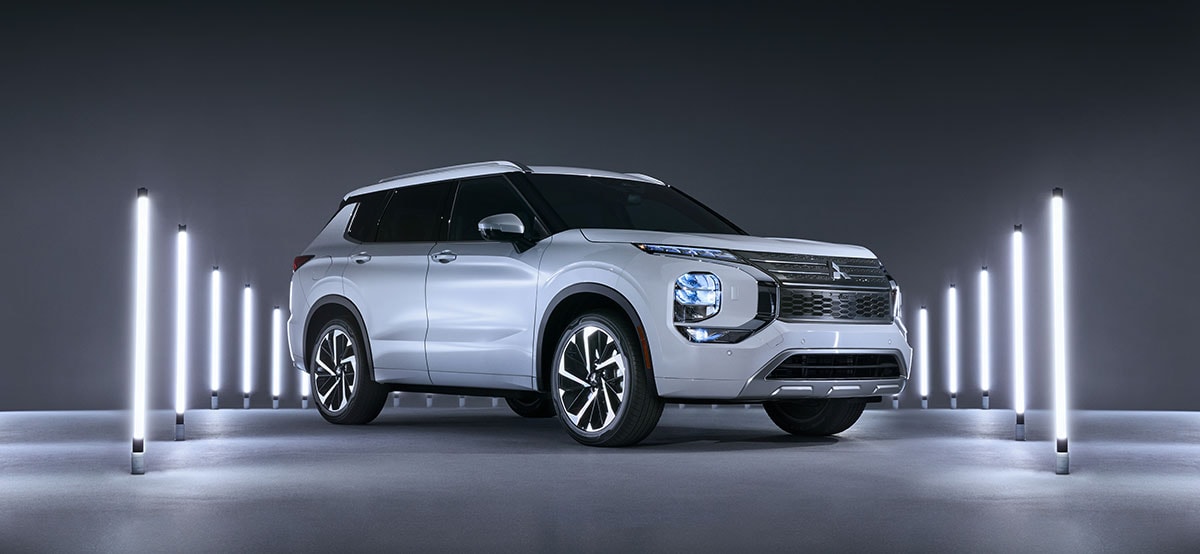 Mitsubishi Outlander
Learn Why Northeast Pennsylvania Drivers Love the Redesigned 2022 Mitsubishi Outlander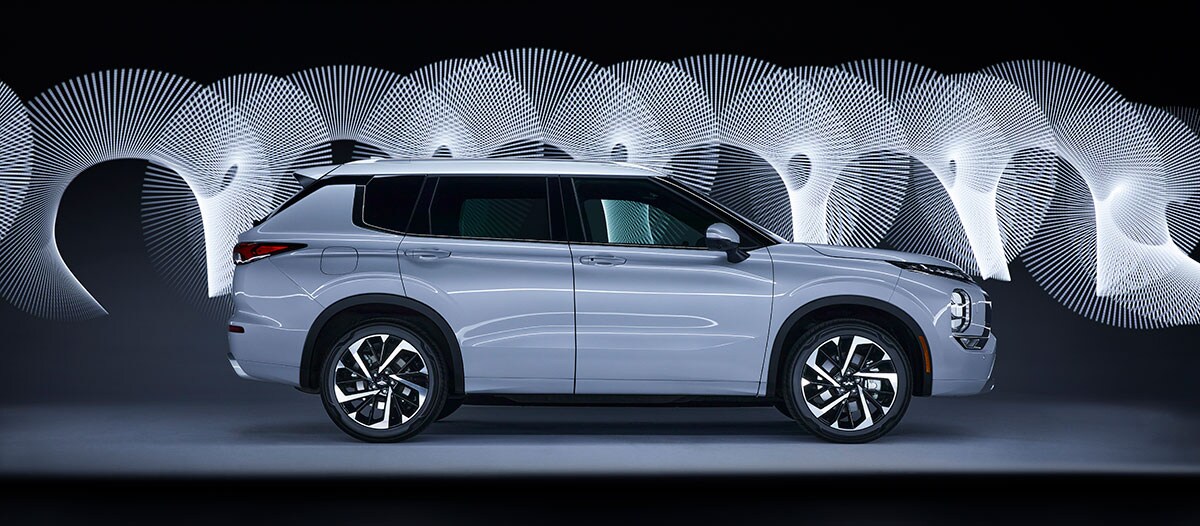 Get Thunderstruck by the new 2022 Mitsubishi Outlander
At Ken Pollock Mitsubishi, we're proud to provide the Carbondale area with a whole host of value-packed new Mitsubishi models at competitive price points. However, while we consider all our new Mitsubishi cars to be compelling options for drivers from all walks of life, we'd argue that the new 2022 Mitsubishi Outlander is one of the most singularly attractive models in our own portfolio. And if you'd like some hands-on experience with this attractive new Mitsubishi SUV, we'd love to get you into the driver's seat of the new Outlander SUV here at Ken Pollock Mitsubishi in Carbondale.
Performance and Capability
There's a wealth of things to love about the new Mitsubishi Outlander, but when speaking of this seven-passenger SUV, the best place to start is under the hood.
Motivated by at 181-horsepower four-cylinder engine connected to a continuously variable transmission, the new Mitsubishi Outlander delivers balanced handling, pleasant road manners, and competitive daily driving efficiency. In fact, when properly equipped with its standard front-wheel drive, the new Mitsubishi Outlander can comfortably achieve up to an EPA-estimated 24 mpg city  and 31 mpg highway, putting it on competitive footing with many smaller five-passenger crossovers and even some sedans and hatchbacks on the market today.
Of course, we all know how unpredictable the weather can be here in the greater Carbondale, PA area, so having the added assurance of all-wheel drive on your side can be a major benefit. Fortunately, the new Mitsubishi Outlander comes with the brand's exceptional Super All-Wheel Control AWD system, giving you confidence-inspiring traction in rain and snow, and even improved control should you opt to take a light off-road adventure in your new Mitsubishi Outlander.
Technology and Safety
While the design and engineering of the new Mitsubishi Outlander help it to stand out from the crowd, it's the tech and safety features that this three-row SUV brings to the table that really give it staying power.
Just step up into the cabin of the new Outlander and you'll be greeted by the Mitsubishi Connect® touchscreen infotainment system. Not only does this system offer an intuitive design  and crisp display, but you'll also enjoy wireless compatibility for both Apple CarPlay and Android Auto. Add in the exceptionally powerful available Bose™ premium audio system and it's not hard to see why tech-savvy drivers are clamoring to lease the new Mitsubishi Outlander at our Carbondale showroom.
In addition to the convenient tech amenities you'll find within the cabin, the new Outlander SUV features a slew of smart safety technologies under the banner of the MI-PILOT Assist™ suite. From Traffic Jam Assist to Forward Collision Warning, the new Mitsubishi Outlander is always working hard to ensure you and your family are secure on the move.
2022 Mitsubishi Outlander
Trim Options
The new Mitsubishi Outlander comes available in five distinct trims, including…
Mitsubishi Outlander ES
Mitsubishi Outlander SE
Mitsubishi Outlander SE Launch Edition
Mitsubishi Outlander SEL
Mitsubishi Outlander SEL Launch Edition
Top 5 Features on the New Mitsubishi Outlander That Will Leave Pennsylvania Drivers Thunderstruck!
The Powerful New Sense of Style

From the bold and broad Dynamic Shield front grille to the enlarged 20-inch wheels and confident body character lines, every aspect of the newly redesigned Mitsubishi Outlander is aimed at grabbing your attention and never letting go. And with that kind of gravitas, you can expect thunderstruck expressions on all your friends faces when they see you behind the wheel of the new Mitsubishi Outlander.

A More Refined Cabin

It's not just the exterior of the new Mitsubishi Outlander that has critics and drivers alike raving about this bold new SUV. Inside the cabin, there's plenty of premium amenities to catch your eye like the wireless smartphone charger, plush materials at common touchpoints, and high-definition displays for the infotainment and instrumentation screens. Couple that with more insultation to eliminate errant road noise and smooth out the ride even on bumpier roads, and it's not hard to see how the new Mitsubishi Outlander is giving even more luxurious vehicles some stiff competition.

Improved Super All-Wheel Control

Whether you're cruising in fair weather or slugging it out with a winter storm on your way to work you can travel with confidence with the new Super All-Wheel Control system at your disposal in the new Mitsubishi Outlander. With several selectable drive modes for various road conditions, you can choose the dynamics that suit your needs best, ensuring you have tools for whatever Mother Nature throws your way.

Stunning Shift-By-Wire System

Though it may seem like a small upgrade, the new Shift-By-Wire system is extremely important to Mitsubishi innovation. Leveraging a shift selector that controls operation by electronic signals rather than mechanical maneuvering, the new Shift-By-Wire system not only lends the cabin of the new Mitsubishi Outlander a more premium feel, but also offers a more streamlined and intuitive interface.

Adaptive Cruise Control

If you're like a lot of folks near Scranton and Wilkes-Barre you spend a lot of your commute on the nearby Roosevelt Highway, so you know how hectic traffic can be at rush hour. Luckily, with the new Adaptive Cruise Control system on the new Mitsubishi Outlander, you can cruise with confidence. Simply engage the system while you're on the highway at speed, and the system will automatically speed up and slow down to keep you on pace and maintain a safe following distance from the vehicle ahead of you.
Test drive the new Mitsubishi Outlander today
Visit us at Ken Pollock Mitsubishi if you'd like to take a test drive in the new Mitsubishi Outlander today. Our dealership is conveniently located near Scranton, Wilkes-Barre, Dickson City, and Dunmore.